The SAMARA Anti-Planner
An alternative journal, a collection of the SAMARA community's favorite prompts, quotes and mindfulness moments.
The Anti-Planner book cover is 100% linen. Each Anti-Planner ships with a SAMARA vegan leather case

- 192 pages in total (75 pages with prompts, 75 blank pages, 18 mindful moment pages, 18 quotes)
- The prompts are categorized into the following themes; love, gratitude, reflection, and growth.

Sizing Chart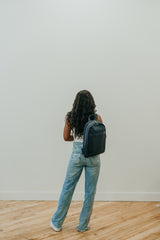 The Ocean Backpack + The SAMARA Anti-Planner
SAMARA LOVE NOTES
Nice
It's nice. I have been using daily as soon as bought it. Gives you nice and simple quote and prompts. It's nice to own however, I don't believe it will last a whole year unfortunately. Each prompt as 2 pages.
Beautiful case and notebook
I bought this mostly for the case - I use an A5 hardcover notebook at work, and thought that this case would add a little bit of class. It is extraordinarily elegant and fits an A5 size (5-3/4" x 8-1/4") perfectly.
I am looking forward to answering the prompts, and will likely buy one for my sister as a gift.
Anti-Planner Journal Junkie
I love journals and journaling. I am a retired librarian who loves organization and planning. I am almost ashamed to say how many planners I own. This Samara Anti-Planner is my new "go to". It is a great size, has motivational and inspiring quotes, and is just sophisticated and exquisite! The beige cover takes it to another level! The best part is that I can use the beautiful cover on several of my other planners! This was well worth the price. The workmanship is heavenly. I would love to see the cover in other colors and for purchase individually.